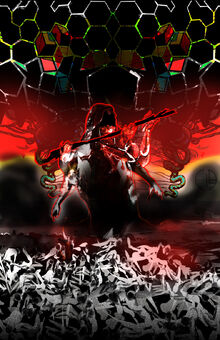 The Slaughter is one of the fourteen major Entities. Its domain is pure, unpredictable, unmotivated violence. It has strong ties to war. It is the fear of not knowing, where, how, when or if pain will come but that it will, and can be violent like a frenzied killer or calm and regimented like soldiers firing on the battlefield.
The Slaughter is frequently associated with music, in particular various kinds of pipes, as well as battlefield music.
Episodes About this Entity
Edit
Notable Avatars and Artefacts
Edit
Ritual Information
Edit
The Slaughter's Ritual is known as The Risen War, and was last attempted during World War 2. It involved the playing of instruments on the Nemesis, an English ship sunk during the Opium War, while prisoners from the Japanese North Point POW camp killed each other, and disciples of the Slaughter watched garbed in uniforms from bloody battles. It ultimately failed without outside intervention; Gerturde Robinson speculated that the Nemesis was meant to be bombed in order to complete it, and notes that they could have sailed into Nagasaki harbor some years later, during the atomic bombing, and had the ritual done properly.
Connections to Other Entities
Edit
The Stranger: an avatar of The Slaughter appears to have stopped The Unknowing from happening in 1787. These two entities also share an affinity for music. In MAG 28, Stranger avatar Sarah Baldwin was attacked for trespassing at a military hospital while recording for Ghost Hunt UK.
Between seasons 3 and 4, Melanie protected the Magnus Institute using Slaughter-related abilities.
Community content is available under
CC-BY-SA
unless otherwise noted.